Portal to the Public to receive Enduring Achievement Award from ARIS Center
Portal to the Public to be honored by Center for Advancing Research Impact in Society
Published:

Tuesday, Jan. 28, 2020
The Institute for Learning Innovation's Portal to the Public will receive the inaugural Enduring Achievement Award from the Center for Advancing Research Impact in Society (ARIS).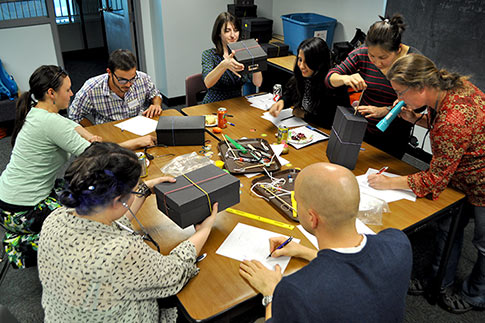 The award will be presented April 28 at the 2020 ARIS Summit.
The Enduring Achievement Award honors a body of exemplary work over time by individuals or organizations undertaking research engagement and translation for impact, says Susan Renoe, executive director of ARIS.
Since 2007, Portal to the Public has helped informal learning organizations -- including museums, science centers, zoos, aquariums and botanical gardens -- connect the public with current science through conversations with local scientists and engineers. The Portal to the Public framework has been implemented at more than 50 organizations that comprise the Portal to the Public Network (PoPNet), a community of practitioners dedicated to sharing ideas and strategies for scientist-and-public engagement. Rather than presenting a prescriptive model, the Portal to the Public framework provides a structured set of guiding concepts designed to be flexible to suit the needs of any institution.
The program began as a collaboration of Seattle's Pacific Science Center, New Mexico's Explora science center, the North Museum of Natural History and Science in Pennsylvania, and The Institute for Learning Innovation in Portland, Oregon.
"We are grateful to everyone who has helped build and strengthen Portal to the Public over the past 12 years," says Eve Klein, director of Portal to the Public "This special award from ARIS is a powerful recognition of our efforts exploring research impact through the lenses of science communication, public engagement and free-choice learning. This meaningful acknowledgment adds to our energy as we continue our work in this area."
ARIS, based at the University of Missouri, works with scientists and engagement practitioners to build capacity, advance scholarship, grow partnerships and provide resources to help them engage with their communities and demonstrate the impact of research.
Founded in 2018 through a $5.2 million grant from the National Science Foundation, ARIS has advisers, partners, and research and higher educational support from more than 25 leading organizations and experts around the world.
The ARIS awards recognize societal impacts through research, engagement and knowledge translation. In addition to the Enduring Achievement Award, ARIS awards to be presented this spring at the 2020 Summit include the Impact Goals Award and the Impact Innovations Award.
To learn more about the Portal to the Public Network, visit popnet.instituteforlearninginnovation.org.
For more information about ARIS, go to researchinsociety.org.