Virginia Tech's CENI to receive Impact Innovations Award from ARIS
Published:

Tuesday, Jan. 28, 2020
The Center for Educational Networks and Impacts (CENI) will receive the inaugural Impact Innovations Award from the Center for Advancing Research Impact in Society (ARIS).
The award will be presented April 28 at the 2020 ARIS Summit.
The Impact Innovations Award recognizes recipients for work to ensure the societal impact of research and higher education through demonstrated leadership in the development and adoption of new approaches to public service, outreach and engagement, says Susan Renoe, executive director of ARIS.
Housed within Virginia Tech's Institute for Creativity, Arts, and Technology, CENI supports educators, students and the community in integrative science, engineering, arts and design projects.
"CENI's commitment is to share research with the community and to collaborate in a culture of creativity in the region among school systems, museums and other educational institutions," says Lisa McNair, director of CENI and professor of engineering education at Virginia Tech.
CENI's projects include outreach events like the Virginia Tech Science Festival, which draws around 5,000 visitors each year, and the Instrument Maker Camp at Virginia Tech's Moss Arts Center, where middle school students design, build, code and perform with their newly invented instruments. CENI's Liaison Network connects with school systems and informal learning organizations such as museums to build a regional community of practice. To foster and measure impacts, CENI provides evaluation and grant support within the Virginia Tech community and in the region. CENI and partners are also developing a data system to document and evaluate potential impacts of research and outreach activities.
ARIS, based at the University of Missouri, works with scientists and engagement practitioners to build capacity, advance scholarship, grow partnerships and provide resources to help them engage with their communities and demonstrate the impact of research.
Founded in 2018 through a $5.2 million grant from the National Science Foundation, ARIS has advisers, partners, and research and higher educational support from more than 25 leading organizations and experts around the world.
The ARIS awards recognize societal impacts through research, engagement and knowledge translation. In addition to the Impact Innovations Award, ARIS awards to be presented this spring at the 2020 Summit include the Enduring Achievement Award and the Impact Goals Award.
Learn more about CENI at ceni.icat.vt.edu. For more information about ARIS, go to researchinsociety.org.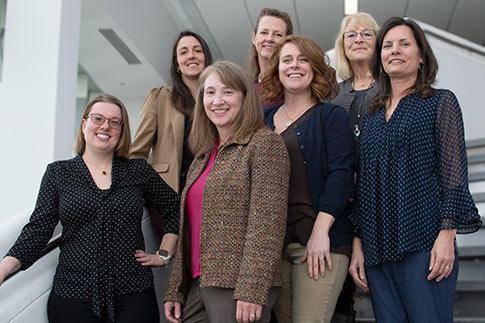 Front: Julee Farley, Phyllis Newbill, Kim Keith, Jamie Little
Back: Bryanne Peterson, Lisa McNair