Encouraging Students with Disabilities to Pursue STEM Careers
Educating students with disabilities requires different teaching practices, accessibility of coursework, and networking. Here are a few programs that focus on STEM education for disabled students and promote STEM careers.
Published:

Wednesday, Oct. 28, 2020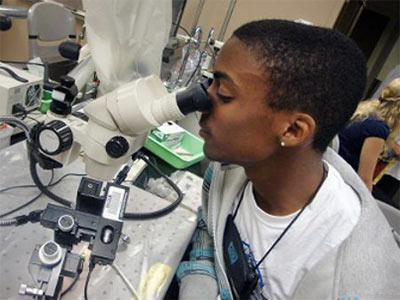 The DO-IT (Disabilities, Opportunities, Internetworking, and Technology) Center is dedicated to empowering people with disabilities through technology and education. It promotes awareness and accessibility -- in both the classroom and the workplace -- to maximize the potential of individuals with disabilities and make our communities more vibrant, diverse, and inclusive. The Center is located at the University of Washington in Seattle, however many projects are nationwide. The following grant-funded programs promoting science, technology, engineering, and math (STEM) careers to individuals with disabilities are offered at no cost to participants:
Additional Resources
The National Federation of the Blind (NFB) conducted a six week-long summer engineering program for blind and low-vision teens. Originally scheduled to take place in St. Paul Minnesota, Engineering Quotient (EQ) allowed blind teens from around the country the opportunity to network with blind STEM professionals, learn how to succeed in college from visually impaired students, and acquire new tools for nonvisual reading and analyzing data. Hands-on asynchronous activities were mailed to the students to advance spatial thinking abilities. The students also participated in the National Convention of the National Federation of the Blind.

Entry Point! is an AAAS (American Association for the Advancement of Science) program that identifies and recruits disabled students majoring in STEM for internships, research, and co-op opportunities. Their goal is to promote diversity, unique perspectives, and creativity from various backgrounds and lifestyles. Since its inception in 1996, it has recruited more than 600 students with disabilities for STEM internships. Find out more about their intern stories!
By Scott Bellman, Program Manager
Disabilities, Opportunities, Internetworking, and Technology (DO-IT) Center at the University of Washington