Programs Expanding Inclusion in Science
Published:

Sunday, Nov. 22, 2020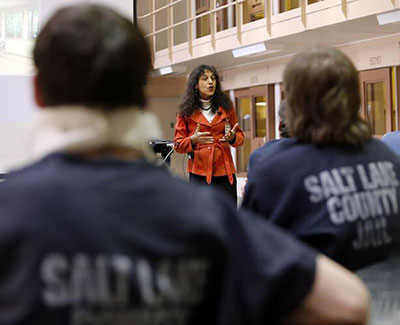 Nalini Nadkarni working with inmates
Dr. Nalini Nadkarni at the University of Utah directs two programs that aim to expand inclusion in science by bringing informal STEM education to incarcerated youth and adults:
The STEM Community Alliance Program (STEMCAP) fosters interest in science among Youth-In-Custody through engagement with scientists, artists, and educators. STEMCAP provides hands-on STEM workshops, environmental stewardship projects, and scientist-led presentations about cutting-edge research. In addition to fostering interest in science, STEMCAP aims to help students self-identify as science capable learners and encourage them to contribute to science, nature protection, and the STEM workforce. Find out more about STEMCAP.
The Initiative to Bring Science Programs to the Incarcerated (INSPIRE) builds connections with science, scientists, incarcerated individuals and the corrections community through monthly science lectures, workshops, and hands-on conservation projects. Activities aim to build incarcerated individuals' confidence to contribute to science and support the development of job skills for participants. Learn more about INSPIRE.
By Amanda Carriero, STEMCAP & INSPIRE Program Coordinator, University of Utah