URSA Engage Program Provides Entry Point into Research for Undergrads
Published:

Monday, Nov. 30, 2020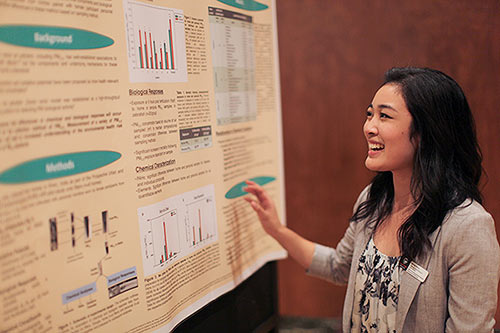 An undergraduate presenting her research at OSU's annual undergraduate research symposium.
Oregon State University's largest, campus-wide undergraduate research program is called the "URSA Engage Program." The goal of the URSA Engage Program is to provide first and second year students, and transfer students in their first year at OSU, opportunities to pursue research or a creative activity under the guidance of an OSU faculty mentor. Students who are selected receive an award of $750 and their faculty mentors receive $250 for project-related costs.
The program is available to undergraduates and mentors at all OSU campuses and across all academic disciplines. This program serves as an excellent entry point into research for early-career undergraduates. We do not evaluate students based on academic performance; instead, we assess students on their ability to articulate the project they will engage in and ways in which they demonstrate resilience, two excellent indicators of success in any research experience.
By Sophie Pierszalowski, Office of Undergraduate Education, Oregon State University
ARIS 2020 Fellowship Recipient