ORIC Boosts Research Impacts Work at Nebraska
Published:

Tuesday, Feb. 9, 2021
As a land-grant institution, the University of Nebraska-Lincoln is committed to increasing the impact of its research, scholarship and creative activity. To advance this commitment, ARIS training and leadership team members visited campus three times in the last five years to offer instruction and hold strategic conversations about maximizing research impacts.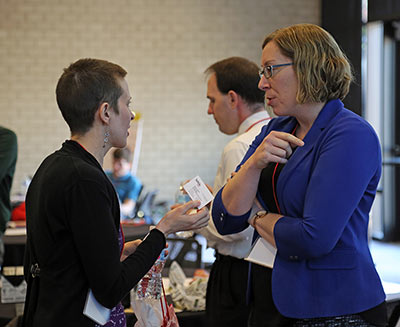 Jocelyn Bosley, research impact coordinator (left), connects with Becky Wachs, assistant professor of biological systems engineering (right), during a recent BI 101 training session at Nebraska.
At Nebraska, research development staff in the Office of Research and Economic Development (ORED) have long played the critical role of helping faculty develop plans to realize the broader impacts of their work, primarily during proposal development.
By providing training, mentorship and resources to institutions participating in ORIC, our goal is to empower them to enhance their internal infrastructure for RI support. We developed a year-long process in which participants receive comprehensive training while being mentored towards achieving specific milestones, such as conducting an RI landscape analysis of their institution/organization, developing a searchable database of RI partners, delivering RI training and performing RI consultations.
These efforts got a crucial boost last fall when ARIS selected Nebraska as a pilot institution for the Program to Enhance Organizational Research Impact Capacity (ORIC), and when ORED hired Jocelyn Bosley as its first research impact coordinator.
In this role, Bosley will provide advice and support to faculty designing or implementing research impact activities. "I've always been interested in sciences relationship with human values -- why the research is worth doing," Bosley said. "I feel that if you're doing the research, it better have some societal impacts."
Serving as Nebraska's RI Professional in ORIC offered Bosley a jump-start on her new position. Beyond the research impact training, resources, and mentorship she received, Bosley credits ORIC for establishing a community of practice that will support her efforts to develop a more robust and sustainable research impacts infrastructure at Nebraska.
Nathan Meier, Nebraska's assistant vice chancellor for research, participated in ORIC as an Administrative Partner. He said the national line of sight afforded by ORIC will elevate Nebraska's efforts to translate discovery and innovation beyond campus.
"We are grateful to ARIS for offering ORIC and helping us strategically focus our institutional research impact supports. I recommend the program to any other campus looking to up its impact game."
By Jocelyn Bosley, Research Impact Coordinator and Nathan Meier, Assistant Vice Chancellor for Research; University of Nebraska-Lincoln