Border Closures Can't Stop Broader Impacts
Published:

Monday, April 5, 2021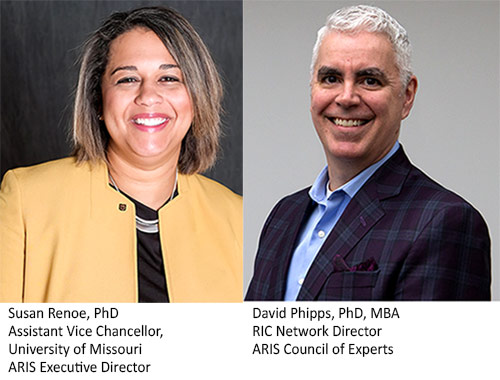 Pop quiz: What do Stevenson, Washington; Providence, Rhode Island); and Tucson, Arizona have in common with Toronto, Ontario; Gatineau, Quebec; and Winnipeg, Manitoba?
Since 2017, these cities were host to either an ARIS Summit or a Canadian Knowledge Mobilization Forum -- knowledge mobilizers and Broader Impacts professionals have been meeting and supporting research impacts on both sides of the Canada-US border.
For now, the border remains closed, but Zoom lets us continue our collaboration regardless of COVID-19 disruptions.
The National Alliance for Broader Impacts, the precursor to ARIS, and Research Impact Canada (RIC) signed a MOU in October of 2016 that committed the two networks to cooperative activities including sharing tools and resources, referencing each other in communications, and collaborating on writing and scholarship. Since then, we've done all of that and more.
RIC and ARIS are two of only a few impact networks world-wide. While research networks focused on impacts for specific disciplines and fields of research are ubiquitous, RIC and ARIS are focused not on a single issue but on the practice of broader impacts applied to all issues and disciplines. There are professional associations for technology transfer (Association of University Technology Managers, as well as many national professional associations) and a few global networks focused on innovation in higher education (Global University Network for Innovation) and community-based research (Living Knowledge Network) and the impacts of science (AESIS Network). However, ARIS and RIC have a unique focus on the individual and institutional practices that support the broader impacts of research.
"While we aim to support research impacts in Canada, Research Impact Canada is a better network, and our members are better impact practitioners because of our collaboration with ARIS," says David Phipps, Assistant VP Research Strategy & Impact at York University (Toronto, Canada) and Network Director for Research Impact Canada.
The complementary missions of RIC and ARIS made joining forces inevitable.
In spring of 2020, we released the RIC/ARIS research impact and stakeholder engagement tool box, a curated collection of peer reviewed tools available in English and French. This responded to needs identified by a group of research impact practitioners assembled under the auspices of the International Network of Research Management Societies (INORMS) allowing ARIS and RIC to respond to global needs. Since launch, we've received 6000+ users to the toolkit.
Most recently, RIC and ARIS are collaborating on a shared summit in 2021: Research Impact & Public Engagement at the Intersection of the Future Workforce. This topic fulfils one strategic area of workforce development for ARIS and helps RIC meet its obligations to the Future Skills Centre and Conference Board of Canada. This virtual conference will feature American and Canadian speakers and content relevant to both sides of the border.
"Public engagement is a key driver of workforce development, and the Summit provides an excellent opportunity to learn, share, and network. Our partnership with Research Impact Canada has expanded our knowledge base and allowed for deeper impact work," says Susan Renoe, Executive Director and Principal Investigator, ARIS.
What's next? ARIS and RIC will continue to do what we do best, which is supporting broader impacts in our own countries, but we will continue to explore collaborations that help build capacity on both sides of the border. Susan and David have sat together on a couple of international impact efforts. The INORMS example above is one. They support the Network for Advancing and Evaluating the Societal Impact of Science (AESIS Network) and recently served on an impact panel assessing impact case studies for CERCA, a network of research centres in Catalonia, Spain.
Just as the US learns from Canada and Canada learns from the US, we both learn from international engagement. Look for RIC and ARIS to continue to engage internationally while building capacity back at home on both sides of the border.